Sports physical therapy is a specialized branch of physical therapy that focuses on the prevention, evaluation, treatment, and rehabilitation of injuries and conditions related to sports and physical activity. Sports physical therapists work with athletes and active individuals of all ages and levels to help them recover from injuries and optimize their performance.
Sports physical therapy involves a range of techniques, including manual therapy, therapeutic exercise, functional training, and modalities such as heat, ice, and electrical stimulation. Sports physical therapists may also use specialized equipment such as treadmills, balance boards, and resistance bands to help athletes improve their strength, flexibility, and endurance.
Goals of Sports Physical Therapy
The goal of sports physical therapy is to help athletes return to their pre-injury level of function and performance as quickly and safely as possible, while also preventing further injury. Sports physical therapists work closely with coaches, trainers, and other healthcare professionals to develop individualized treatment plans that address each athlete's specific needs and goals.
Best Sports Physical Therapists in Boston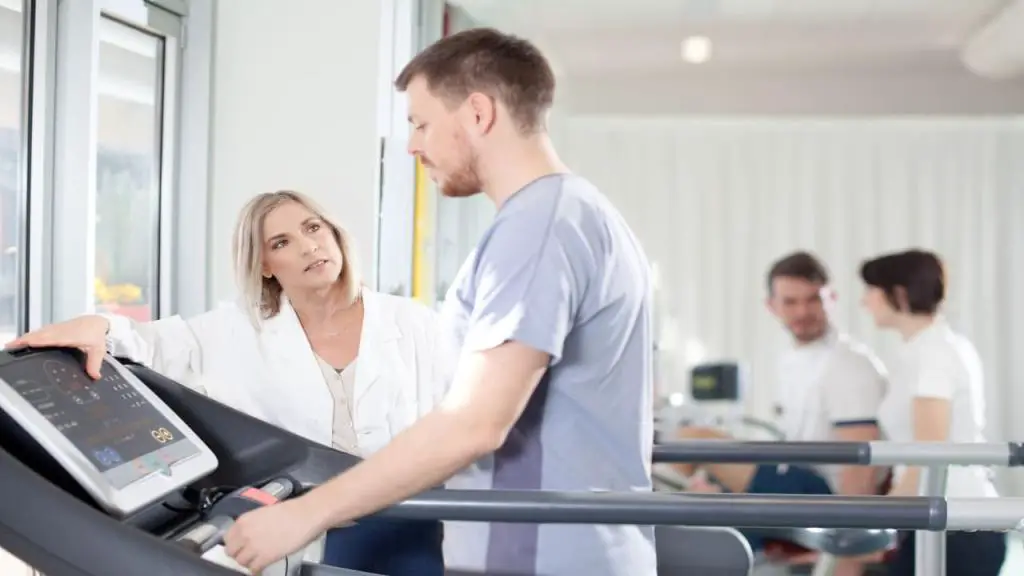 Following are some of the best places to find sports physical therapists in Boston.
1. Boston Physical Therapy & Wellness
Boston Physical Therapy & Wellness is a fitness center and physical therapy facility located in Medford that has been in operation since 2015. This facility offers top-notch rehabilitation services for athletes of all levels who have sustained sports-related injuries. With a team of experienced physical therapists, they provide sport-specific training to help athletes recover speed, power, and agility, as well as regain muscle and joint function. 
The facility is well-equipped to handle a range of injuries, including post-surgical rehabilitation of the knee, shoulder, ankle, hip, and spine, shoulder & rotator cuff injuries, ligament sprains, muscle strains, post-fracture rehab, and more. The process begins with a comprehensive evaluation of the patient's condition and personal objectives. 
2. Orthopedic & Sports Physical Therapy Associates
Orthopedic & Sports Physical Therapy Associates is a privately-owned sports physical therapy clinic that specializes in the evaluation and treatment of musculoskeletal injuries and conditions, with clinics in Boston and Medford. Established in 1982, the clinic offers a wide range of services, including pre-and post-surgical rehabilitation, advanced manual therapy, skilled exercise prescription, and clear patient education. 
The clinic's experienced physical therapists use their expertise to treat a range of musculoskeletal conditions, including rotator cuff tendonitis, ankle sprains, tennis/golfer's elbow, cervical strain, low back pain, localized muscle strains, and surgical and non-surgical ligament sprains, tendon ruptures, and fractures, among others.
3. Blue Hills Sports & Spine Rehabilitation
Blue Hills Sports & Spine Rehabilitation is a specialized clinic that offers evidence-based approaches tailored to individual injuries. With specialty services in Orthopedics, Sports Therapy, Spine programs, and Vestibular Rehabilitation, the clinic has physical therapists with years of experience in managing sports-related injuries using cutting-edge, evidence-based care. 
They understand that athletic injury recovery goals are different from traditional injury recovery goals, and they work with an athlete's entire support system to ensure the quickest and safest return to their sport. The clinic also offers affordable self-pay options for athletes who need to return to peak performance, but whose insurance coverage may be limited.
4. Massachusetts General Hospital
Massachusetts General Hospital is a leading provider of sports medicine services, with a focus on research, technology, and innovation. Their Sports Physical Therapy Service is staffed by a team of experienced physical therapists, assistants, athletic trainers, and coordinators dedicated to helping athletes safely return to their highest level of activity. 
The service works closely with physicians both inside and outside the Mass General Brigham system. They specialize in custom rehabilitation and conditioning programs, performance enhancement strategies, and community outreach to educate and prevent injuries.
5. Boston Sports Medicine
Boston Sports Medicine is a physical therapy practice that provides care to people of all ages and abilities, not just athletes. The highly trained and experienced physical therapists specialize in various areas such as dance rehabilitation, physical therapy for students, pediatrics/teens, and tactical athletes. 
They provide services under the direct supervision of a licensed physical therapist in Massachusetts. The practice also offers a summer program for teenage athletes and specializes in dance rehabilitation on land and in the pool. Whatever the issue may be, Boston Sports Medicine is committed to providing personalized care to each patient.
FAQs
What is the difference between physical therapy and sports therapy?
Physical therapy is a broader term that encompasses a wide range of conditions and injuries, while sports therapy is a specialized form of physical therapy that focuses specifically on sports-related injuries and performance enhancement for athletes.
What are the benefits of sports physical therapy?
Sports physical therapy can help athletes prevent injuries and recover from injuries faster. Through techniques such as proper training and conditioning, manual therapy, and exercise, sports physical therapy can improve physical function, reduce pain, and enhance overall performance. 
Who can benefit from sports physical therapy?
Sports physical therapy can benefit a wide range of people who engage in physical activity, not just professional athletes. Anyone who participates in physical activity, including recreational athletes, gym-goers, and weekend warriors, can benefit from sports physical therapy. 
Additional Posts: