Sports physical therapy is a vital component of professional athletes' performance and recovery, and the NBA (National Basketball Association) is no exception. With the high intensity and physical demands of the sport, NBA players rely on the expertise of sports physical therapists to prevent and manage injuries, optimize performance, and facilitate their return to the court. 
Sports physical therapy is a specialized area of physical therapy that focuses on the assessment, treatment, and prevention of injuries related to sports and physical activity. It involves a comprehensive approach that includes injury prevention strategies, rehabilitation techniques, performance enhancement strategies, and education on injury management and prevention. 
Sports physical therapists in the NBA work closely with players, coaches, and other healthcare professionals to provide specialized care and support that caters to the unique needs of basketball players. Sports physical therapists are trained in the biomechanics and functional movement patterns of sports-specific activities, allowing them to develop tailored treatment plans that address the specific needs of athletes. 
What do NBA sports physical therapists do?
In the NBA, sports physical therapists play a critical role in the overall health and performance of athletes. They work closely with the team's medical staff, including physicians, athletic trainers, and strength and conditioning coaches, to provide comprehensive care that promotes optimal performance and minimizes the risk of injury. 
From acute injury management to long-term rehabilitation, sports physical therapists in the NBA are integral in helping players recover from injuries, regain their strength and mobility, and return to the court at their peak performance level.
How to become a sports physical therapist in the NBA?
Becoming a sports physical therapist in the NBA requires a combination of education, experience, and specialized skills. Firstly, aspiring sports physical therapists must complete a Doctor of Physical Therapy (DPT) program and obtain state licensure. 
Additionally, gaining experience in sports settings, such as internships or clinical rotations with sports teams or athletes, can be beneficial. Pursuing certifications in sports physical therapy, such as the Sports Certified Specialist (SCS) designation, can also enhance qualifications. 
Networking and building connections within the sports industry, including the NBA, can open doors to opportunities. Keeping up-to-date with the latest research and advancements in sports physical therapy is also crucial. 
Ultimately, a strong passion for sports, dedication to ongoing professional development, and a desire to work with elite athletes are essential qualities for aspiring sports physical therapists in the NBA.
Famous sports physical therapists in the NBA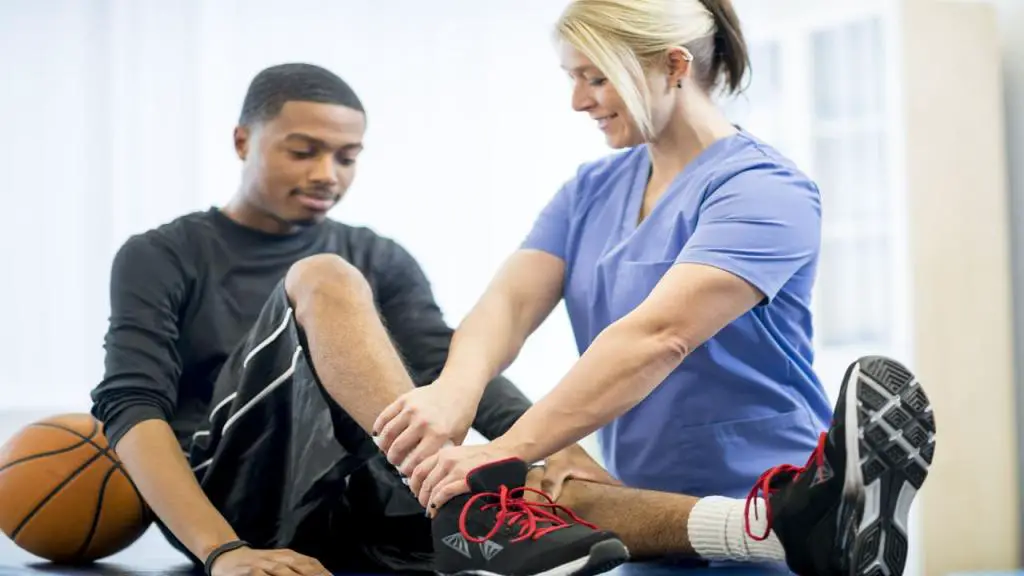 Following are some of the sports physical therapists working in the NBA.
1. Vanessa Brooks
Vanessa Brooks, a trailblazer in the field of sports medicine, was recently recognized by USA Today as the first Black female Physical Therapist/Athletic Trainer in the NBA. Since joining the Oklahoma City Thunder in June 2019, Brooks has made significant contributions to the team's medical staff. 
In her first season, she served as the Head Athletic Trainer and Physical Therapist for the Oklahoma City Blue, the Gatorade League (G League) affiliate of the Thunder. She has been recognized with prestigious awards, including Dr. Marion Hubert, Soule, and Dr. Butch Mulherin awards, for her exemplary work ethic, commitment to promoting physical activity among girls and women, and dedication to the field of Athletic Training. 
Brooks is also set to become a Fellow in the American Academy of Orthopaedic Manual Physical Therapists (FAAOMPT) in the Summer of 2023, further showcasing her expertise and dedication to advancing her profession.
2. Jessica Cohen
Jessica Cohen, an accomplished Head Athletic Trainer/Physical Therapist, has been an integral part of the Portland Trail Blazers' medical team for four seasons, having been appointed as the team's Head Athletic Trainer in January 2022. With extensive experience in the WNBA, Cohen previously served as the Head Athletic Trainer and Physical Therapist for the Atlanta Dream and the Chicago Sky for a total of seven seasons.
 In addition to her basketball expertise, Cohen has also worked with the New England Black Wolves of the National Lacrosse League and toured with celebrity performers. She holds multiple certifications, including Certified Athletic Trainer, Licensed Physical Therapist, Performance Specialist from EXOS, and board certifications in Sports Physical Therapy (SCS) and Orthopedic Physical Therapy (OCS) from the American Board of Physical Therapy Specialties. 
3. Cruz Romero
Cruz Romero, an esteemed Physical Therapist/Sports Scientist, is currently in his second season with the Portland Trail Blazers in the role of Physical Therapist/Sports Scientist. Prior to joining the Trail Blazers, Romero spent four years at EXOS, a renowned human performance company, where he held a PT manager role and provided care for professional athletes from various sports leagues, Olympic athletes, and international athletes. 
Romero holds board certifications in Sports and Orthopedics from the American Physical Therapy Association, along with certifications in orthopedic manual therapy, XPS, systemic dry needling, and strength and conditioning specialist (CSCS).
FAQs
How much do sports physical therapists in the NBA make?
The salary of a physical therapy assistant in the NFL, NBA, or MLB can vary depending on factors such as experience, location, and job responsibilities. However, according to the Bureau of Labor Statistics, the median annual wage for physical therapist assistants in May 2020 was $59,770.
What are the perks of being a sports physical therapist in the NBA?
Working in professional sports may come with additional perks such as travel opportunities and exposure to high-level athletes. As for the career itself, being a physical therapy assistant can be rewarding for those who enjoy helping others and working in a healthcare setting.
How important is diversity and inclusion in sports physical therapy in the NBA?
Diversity and inclusion are crucial in sports physical therapy, including in the NBA. Representation of diverse backgrounds, including gender, race, ethnicity, and cultural backgrounds, in the field of sports physical therapy, promotes inclusivity, equity, and access to quality care for all athletes. 
In conclusion, sports physical therapists play a vital role in the NBA, providing essential care for athletes to prevent injuries, optimize performance, and aid in recovery. With specialized education, certifications, and experience, sports physical therapists contribute to the overall health and performance of NBA athletes.
Aspiring sports physical therapists should focus on building their skills, staying current with advancements in sports medicine, and promoting diversity and inclusion in the field. With their expertise, sports physical therapists are invaluable members of NBA teams, supporting athletes to perform at their best on the court.
Additional Posts: