Lesbians are at a higher risk of developing mental health conditions. Talking therapy makes the difference between getting better or much worse.
This article discusses why you should seek a lesbian therapist. Find lesbian therapists who understand you with Pride Counselling.
Lesbian Therapists Near Me
Depression, alcohol and drug abuse, self-harm, and suicidal ideation are common in the LGBTIQ+ community. More so than in the wider population. Mental health conditions are 3 times more likely in LGBTQ individuals.
Being part of the LGBTIQ+ community isn't the issue. It's discrimination, social isolation, rejection, and homophobia that cause it. These factors put you at a higher risk of mental health difficulties.
Many experience minority stress. This is where social environments feel hostile because of stigma, prejudice, and discrimination. Mental health issues are the outcome.
Coming out can have complications. There's much pre-emptive stress in telling friends/family members. A negative coming-out experience may result in the need for mental health support.
There are many barriers lesbians face when seeking therapy. Over 50% of LGBQ+ individuals believe mental health services need improvement. 1/7 LGBTIQ+ individuals avoid healthcare for fear of discrimination. The worries about stigma can result in a reluctance to disclose sexuality.
There is a general shortfall of LGBTIQ+ sensitivity in standard therapy. Therapists lack an understanding of the common difficulties lesbians face. This can prevent many from accessing counseling. It can also cause negative experiences within therapy, causing a hesitancy to return.
You want a therapist who understands you – someone who can relate to your life experiences. They should understand the challenges you face as a lesbian. It may feel important to you that your therapist is part of the gay community.
Many therapists claim to be LGBT affirming. But lesbians often find it easier to talk to someone who is part of the community. You can discuss your sexual orientation when speaking to a lesbian therapist. You can explore difficulties relating to this too.
List of Lesbian Therapists
Joanne N Clark is a clinical social worker and therapist. She specializes in LGBTQ and people questioning their sexuality. She provides individual and couples therapy for Black and African Americans. Joanne is a relational therapist. She believes healthy relationships are vital and supports her clients to achieve this.
Ilona Margiotta provides holistic support to lesbians. She also helps those experiencing relationship issues and life transitions. She has a relational approach, so she helps her clients to develop healthy relationships. She has extensive experience working with lesbian clients.
Katie Munro is a lesbian and queer-identified therapist. She is passionate about working with sexual and gender identity issues. She uses a humanistic approach in her LGBTQ counseling. Mental health difficulties such as anxiety and depression are Katie's specialties.
Marsha Sideris is a clinical social worker and counselor. She acknowledges the importance of uniqueness and diversity. Marsha works with lesbians, relationship issues, and anxiety. She provides support specific to your needs by combining Cognitive and Behavioral counseling.
Find similar therapists providing online therapy at Pride Counselling.
Lesbian Therapists at Pride Counselling
You can find plenty of lesbian therapists at Pride Counselling. Pride Counselling is an online mental health service. Its primary aim is to make mental health support accessible to everyone. This is regardless of race, gender, age, and sexual orientation.
Pride Counselling caters to the needs of LGBTQ clients. It provides individual therapy and couples counseling. It's discrete, convenient, and affordable. You can schedule therapy around your life commitments. You're also able to message your therapist if you require urgent support.
FAQ for Lesbian Therapists Near Me
What is a Lesbian Therapist?
A lesbian therapist is a trained and licensed mental health professional. They offer support to lesbian couples specifically They can help you with sexuality-related difficulties because they likely experienced them too.
They can provide mental health support specific to your sexual orientation. They can relate to your difficulties.
Cost of Therapy
The cost of a lesbian therapist can be anywhere between $150 – $250. Lesbian-specific therapy is not cheap.
However, therapy at Pride Counselling is £40 – £70; that's between $55 and $100. It offers the same quality counseling at a much lower price.
Benefits of Lesbian Therapists
Lesbian therapists have strict ethical guidelines to adhere to. These tailor therapy towards those in the LGBTQ+ community. Therapists must have respect for the needs and wishes of their lesbian clients. Lesbian therapists will have extensive knowledge of the effect of stigma on lesbians.
It's much easier to build a solid therapeutic alliance with a lesbian therapist. You can be confident that they understand your difficulties. You don't have to fear discrimination or judgment.
You can discuss your sexuality and same-sex relationship. You can rest assured you'll receive sensitivity around sexuality concerns. They'll understand that gender identity and sexual orientation aren't the same.
A lesbian therapist can put your mind at ease. They can provide a space that feels safe and secure. This is the only way you can feel comfortable expressing your identity.
What to Expect from a Lesbian Therapist
You can expect to receive mental health support specific to your needs. A lesbian therapist will understand the ins and outs of lesbian life. They will approach your sexuality with sensitivity and respect.
They will encourage you to embrace your sexuality, not attempt to quash it. You can develop a strong therapeutic relationship with a lesbian therapist. They'll understand.
How Long Does it Take to Get Better?
Treatment length depends on many factors. Your treatment will be open-ended or fixed-length. There is no set end date in open-ended therapy. This is a long-term form of therapy that continues for as long as you both feel is necessary.
Fixed-length therapy lasts for an agreed-upon amount of time. Cognitive Behavioral Therapy is a short-term treatment. Therapists often use this approach for fixed-length therapy.
Treatment length also depends on the severity of your mental health difficulties. Childhood trauma or suicidal behaviors/thoughts may need long-term therapy.
Reasons Lesbians Should Get a Lesbian Therapist
You'll feel more comfortable in the company of a lesbian therapist. This will help to build a better therapist-client relationship. It will aid your therapy journey because you'll be able to express yourself. You can discuss all the difficulties of your sexual orientation.
They'll understand the stigma, discrimination, and social isolation that lesbians experience. They will be comfortable and competent in discussing lesbian relationships and intimacy issues.
You can be confident you're safe from judgment. They can assist you in coping with other people's reactions to your sexuality. They can aid your transitioning journey. A lesbian therapist can help you manage feelings of anger, isolation, and rejection.
Other Common Questions
Is Online Therapy As Effective As Face-To-Face Therapy?
Pride Counselling ensures you receive therapy from a licensed and credentialed therapist. Online therapy is ideal if you experience anxiety around discreteness and convenience.
Online therapy leads to mental health improvements.
What's Confidentiality?
All therapists must abide by the rules of confidentiality. Confidentiality means whatever you talk about in therapy stays in the therapy room. Your therapist cannot discuss anything you disclose with anyone else.
The only exception to this is if you, or anyone else, is at risk of significant harm. If this happens, your therapist can contact another supporting agency.
They cannot contact your family or friends.
How to Get Started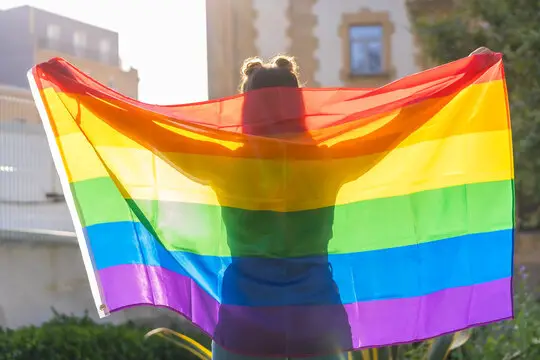 To access Pride Counselling, click on the link at the top of the article. It will ask some questions about you. This will include your gender and sexual orientation. It'll also ask you what you're struggling with.
It asks these questions so it can find the lesbian therapist best suited to you. Once you enter your details, lesbian therapists will contact you. Their schedule will be flexible, so you can find a therapy slot that fits your schedule.
Choose between live chat, message, phone call, or video call therapy sessions. You don't have to stick to one method – you can experiment with them all if you want!